WHAT IS THE DIFFERENCE BETWEEN PRINT AND CUT VINYL?
When it comes to vehicle graphics, there are two main types of vinyl that are utilized: Print Vinyl and Cut Vinyl. What is the difference between the two? Which one is better quality? We will try to answer these questions so you can choose the right option for your vehicle graphics.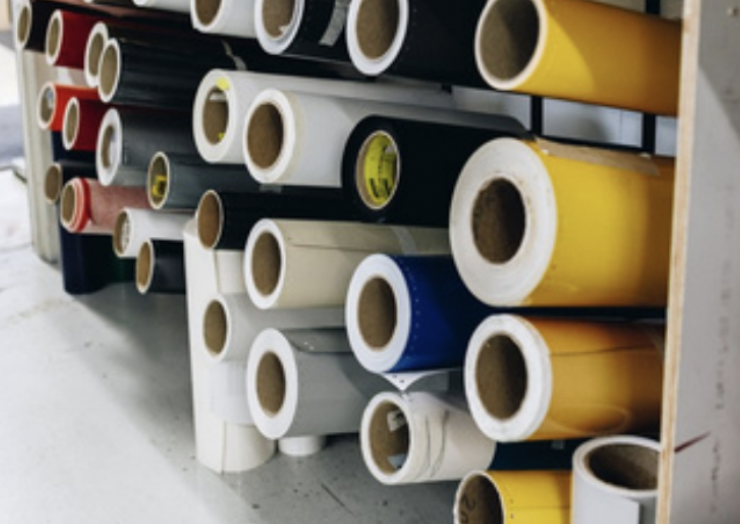 When a design is printed onto white or clear vinyl, the material is called Print Vinyl. Print Vinyl can produce multiple colors – this makes it ideal for gradients, shading, photographs, and artwork.
Print vinyl is often the choice for commercial vehicle graphics as it is a lot more flexible to design needs and generally cheaper.
Prints a design of multiple colors
Used for gradients, shading, photographs, and artwork
Can print specific color that matches client's brand
Not as vibrant as some cut vinyl
Can only achieve a matte or luster finish by applying laminate overtop
Has potential to fade quicker depending on amount of sun exposure and vinyl care
UV laminate needs to be applied to help protect the print
Cut Vinyl is vinyl that is cut from pre-colored rolls of vinyl. With this material, designs are cut out of the vinyl rather than printed on top of it. The easiest way to describe it is by comparing it to cutting shapes out of construction paper.
Even though colors can appear more vibrant and achieve certain finishes without lamination, you are limited to a color selection. So, if you have a specific color you need for your brand, you may have a difficult time matching it with cut vinyl. This material is often times more expensive as well. So, if you have a lower budget, it may not be the best option to use in your wrap. Cut vinyl is generally used more often for personal vehicles.
More vibrant in color
Comes in different finishes such as reflective and metallic (does not need laminate to achieve an effect)
Limited color selection
Unable to make gradients, photos, or complex color combinations
More expensive
WHAT VINYL SHOULD YOU USE?
When deciding which type of vinyl to use, it really comes down to the design of the vehicle, the colors you want to achieve, and your overall budget. The lifespan of each material is around 5-7 years, but it is determined by sun exposure and the continuing maintenance of the vinyl.
For most commercial fleets, Print Vinyl is the popular choice to achieve an impactful design with multiple colors, gradients, photographs, and artwork. Cut Vinyl is primarily chosen for personal vehicles, emergency vehicles (for reflective striping), or if clients want a certain color vibrancy.
Both vinyl materials are durable and impactful for any fleet of vehicles. If you're interested in starting a project with our team and want to know which type of vinyl is right for you, connect with us here.