WHAT INFORMATION NEEDS TO BE INCLUDED ON A COMMERCIAL VEHICLE WRAP?
After deciding to letter or wrap your commercial vehicle, you may be wondering about the necessary information to include in your design. There are a few logistics to think through when designing a vehicle wrap, and we want to make the process easy for you.
Keep reading to learn about what information is important to include on a commercial vehicle wrap!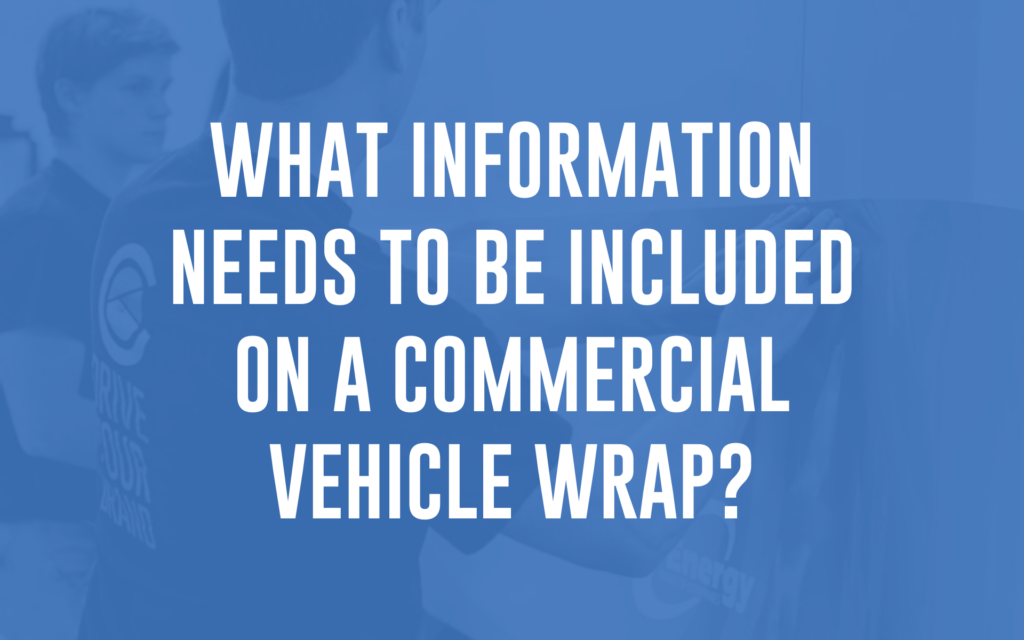 When someone sees your commercial vehicle, they shouldn't have to question who you are and what you do. It's important that you are clearly communicating your company information and your overall brand.
CONTACT INFORMATION & SERVICES
This may seem obvious, but make sure to include your company's contact information so people have a way they can reach you after seeing your vehicle wrap. This can be your phone number or website. It is important to have some way for an individual to connect with your business and inquire.
Again, don't make people question what you do. The name of your business won't be enough to grab their attention. Share about what your company does by including a list of your services. What do you provide to your clients? Contracting & Roofing Services? Plumbing & HVAC Installation? Make it clear to your leads that you can serve their needs. With this, we also recommend that this information be concise and limited. If there is too much information conveyed, it can actually hurt the overall design by making it feel very busy or confusing.
There's no question that vehicle wraps are a great asset to brand exposure and awareness. In order to accurately represent your brand, it's important to include your logo and even brand colors on your vehicle wrap. You can also include your slogan or other design elements that are specific to your brand. If you're not looking to just be identified out on the road and truly want to make an impression, it's crucial that your vehicle wrap is consistent with your brand. Your brand is unique to you, and it's important to celebrate that out on the road.
Registration numbers may be a requirement for your commercial vehicle. Depending on the size of your vehicle, your service type, and what you are transporting, you will need specific vehicle numbers. This includes USDOT, PA #, BU #, and additional numbers that are required to be driving on the road. It is highly recommended to operate within the FMCSA guidelines so you don't receive a fine (which can become very costly over time).
If you have any further questions about what should be included on your vehicle, connect with a representative today!