FULL WRAP VS. PARTIAL WRAP - WHAT ARE THE BENEFITS?
Are you looking to wrap your vehicle but don't know what type of coverage you're looking for? When deciding between a full wrap and a partial wrap, it's important to think about these three factors: budget, marketing strategy, and the type of vehicle you're wrapping.
Before diving into the deciding factors, let's discuss what you would be receiving with either option. What is the difference between a Full Wrap and a Partial Wrap?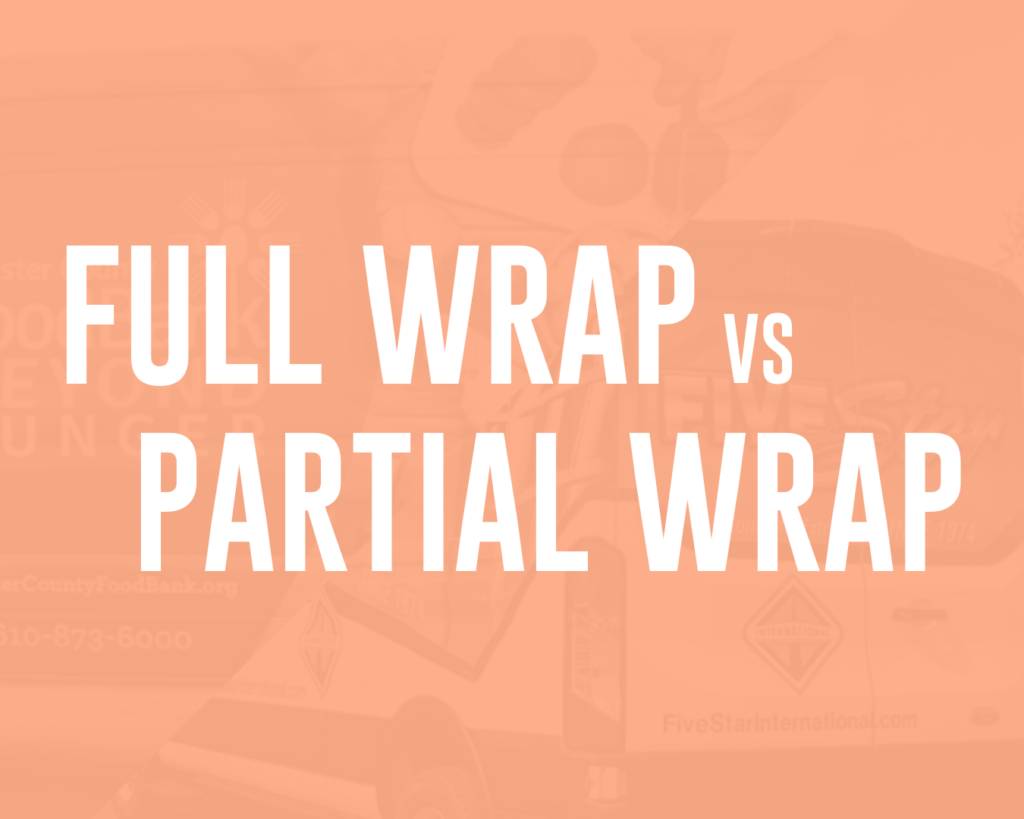 FULL WRAP
A full vinyl wrap's coverage includes all exteriors of the vehicle: sides, rear, hood, and possibly windows (if permitted by law). Full wraps on larger vehicles do not usually include the roof because it is the least seen part of the vehicle. On full-size vans (such as Ford Transits or Mercedes Sprinters), a small visible section of the roof is included in the coverage cost. All other vehicles require an additional fee for any roof coverage. Wrapping the roof on a larger vehicle could be beneficial if you are driving in more urban areas where people can see the top from a building.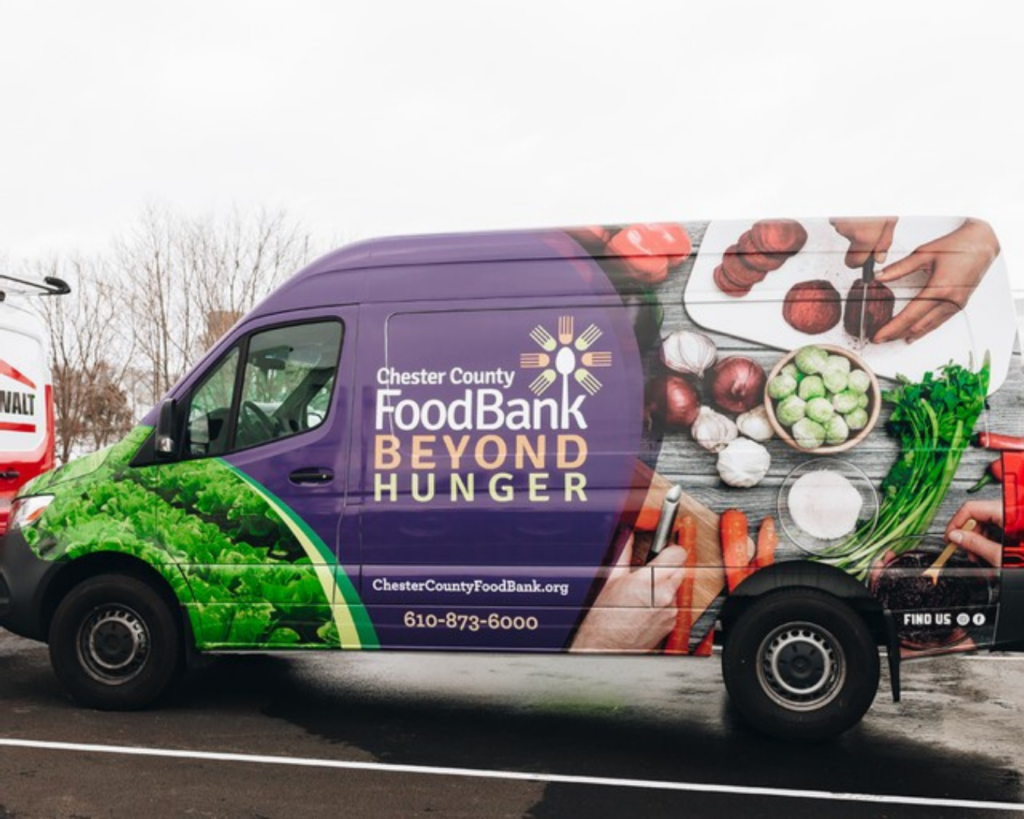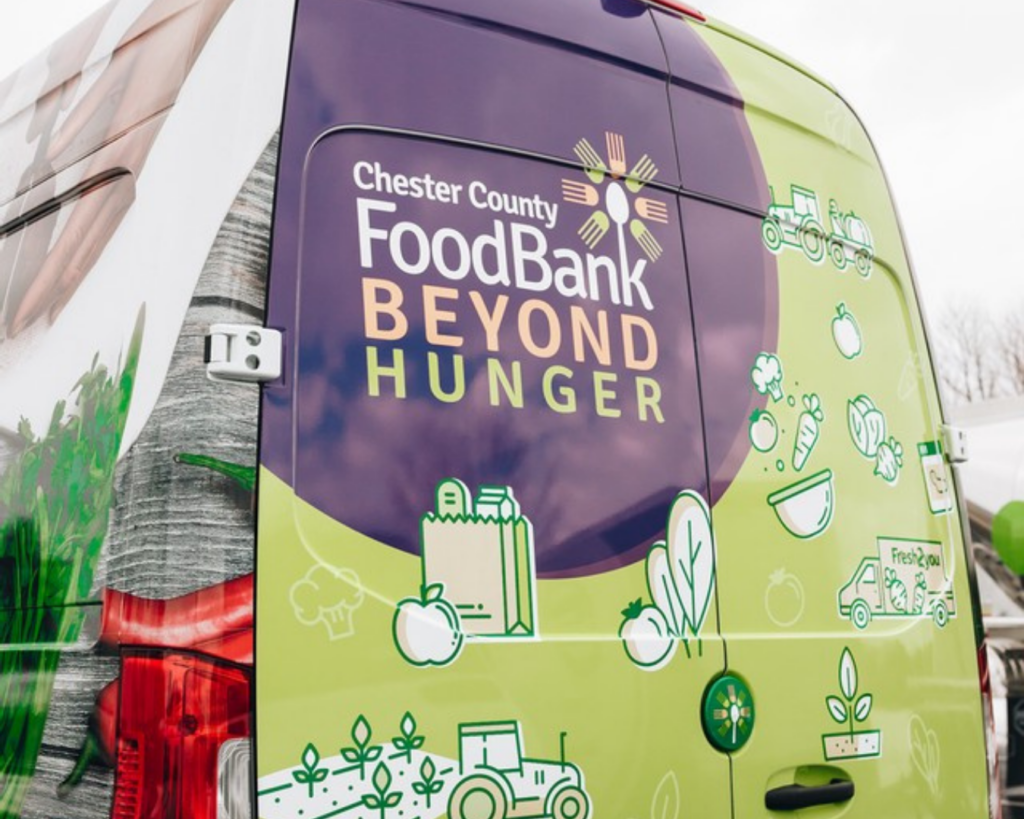 PARTIAL WRAP
A partial vinyl wrap's coverage includes the rear and partial sides of the vehicle, and part of the hood. The front half of the vehicle is normally exposed. This is more cost-efficient than leaving the back of the vehicle exposed because there is more labor involved in wrapping the front. Design elements and company information will likely be found towards the back of the vehicle.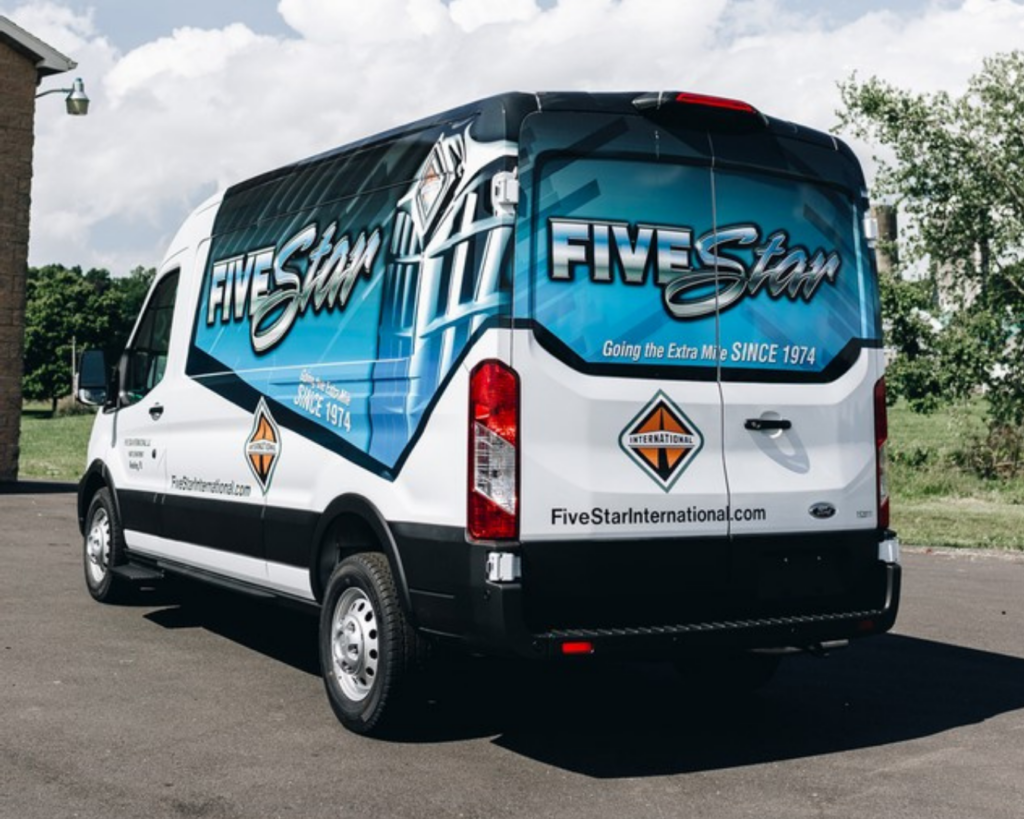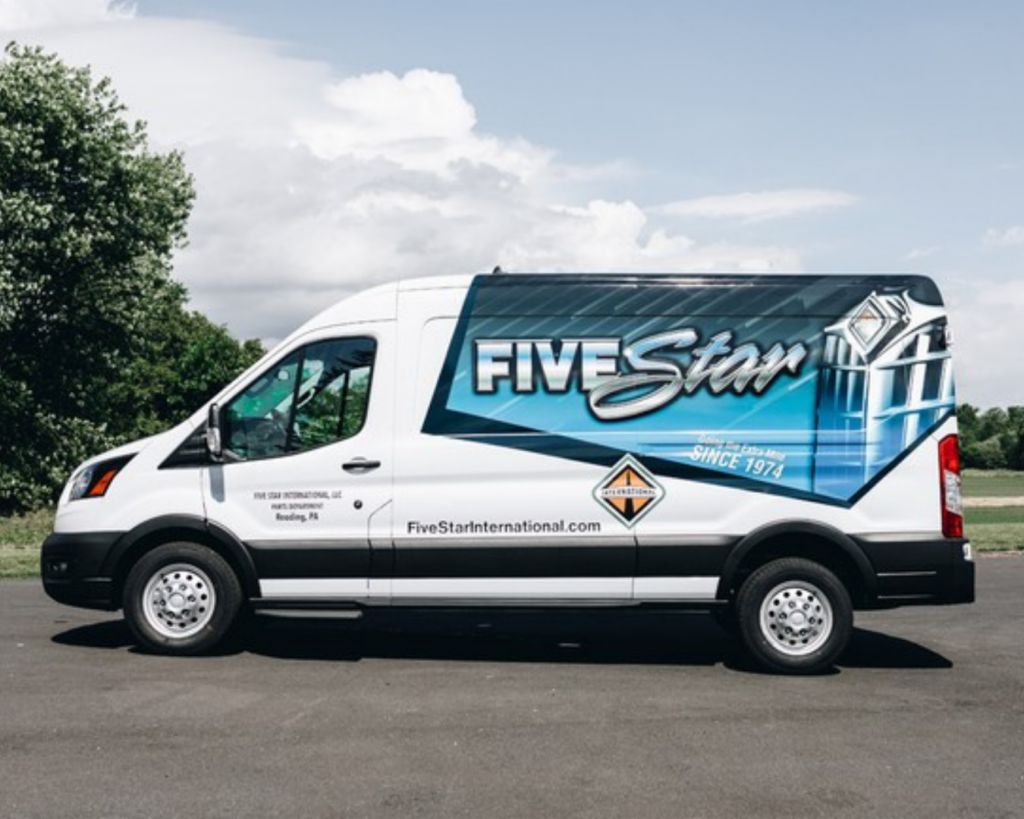 Now, let's discuss the three factors that will help determine whether a full wrap or partial wrap is best for your brand!
BUDGET
When it comes to your budget, it's important to acknowledge the goals you have for the final product you are purchasing. Small businesses can often be hesitant to wrap their vehicle because of one simple question – "is it worth it?" If you want to learn more about the value in vehicle graphics for your business (regardless of company size), click here.
If you are looking to save money, a partial wrap can be a great option for you as long as you have a carefully planned design. Since there is less coverage, you need to be intentional about the information and design elements being used. Partial wraps are also great if you're looking to use more expensive vinyl material to give a certain finish. If fully wrapping your vehicle in a more expensive material doesn't make sense for your budget, a partial wrap can be just as impactful and effective.
MARKETING STRATEGY
There are many reasons why a business may wrap their vehicle. You may not think that the type of coverage can affect the impact of the branding, but we have seen subtle contrasts that make all the difference.
We recommend a partial wrap if you are looking to promote a special event, product, or campaign. If you have a short-term goal with the wrap, go with an option that saves money and where the design can be more specific to that campaign.
In any marketing strategy, it's important to maximize your marketing space. Full wraps in the long-term will make a wider impact. We have seen small businesses choose full wraps to make their brand stand out on the road, especially since they are in competitive industries. Take advantage of the marketing assets you've been given!
Whether you are looking for a short-term or long-term wrap, you need to make sure that your design and plan are strong. Without a solid design for either option, your brand will not gain as many impressions as you'd like on the road.
TYPE OF VEHICLE
The type of vehicle you will need to be wrapped will make a difference in your decision to partially or fully wrapped. Coverage can be affected by the color and size of your vehicle. 
The color of your vehicle can make or break your brand. If the vehicle's color clashes with your brand, consider getting a full wrap. If the color of your vehicle coincides with your brand, choose a partial wrap! Since a partial wrap already exposes the vehicle body, you can use that to your advantage to match your brand. You will be saving more money by using less material, and you can still make a lasting impact!
Larger vehicles (such as vans and box trucks) are great for full wraps because your canvas has increased – therefore you have more space to put information, pictures, and color! You are sure to stand out on the road with your bold new wrap.
For smaller vehicles (such as small vans and SUVs), many will opt in for partial wraps. Typically full coverage on these types of vehicles will add space that isn't too useful at the end of the day. A partial wrap will help a smaller vehicle stand out on the road while also getting your message across in a simplified way.
Deciding upon which coverage to get for your vehicle doesn't have to be a struggle, and we have a team that can help you in your decision! We want what's best for you and your brand in the long-run. Get connected with us here!