WHAT DOES THE BRAND DESIGN PROCESS LOOK LIKE?
Brand design can be overwhelming at first, but when the right process is in place, the journey can be simplified and impactful. What does it look like to design a logo or refresh an existing design? Continue reading to learn more about the brand design process.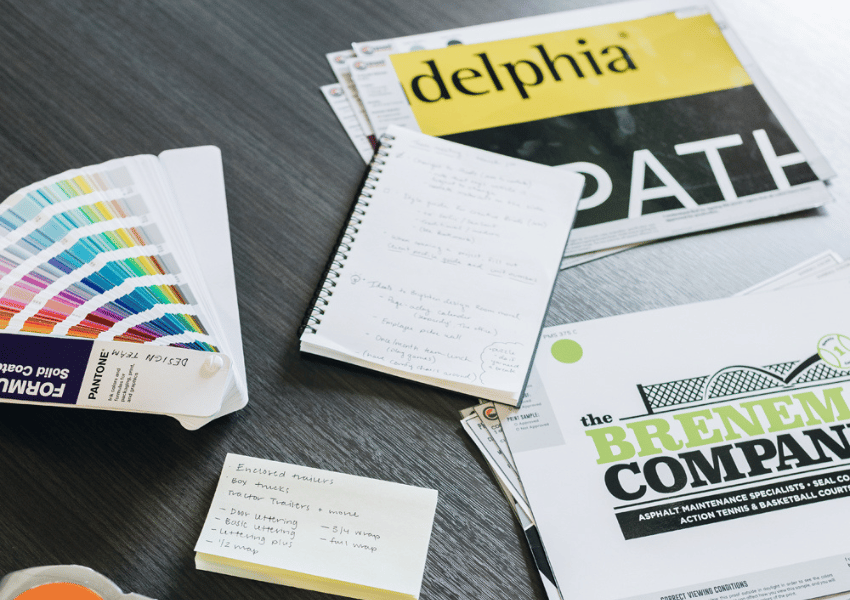 FUNDAMENTAL DESIGN PRINCIPLES
For every brand, there are a few foundational principles to be considered in the design process.
IS THE BRAND APPROPRIATE FOR THE BUSINESS AND INDUSTRY?
When designing a brand, it's important to understand the client's target audience as well as the industry they are in. Be strategic in the logo design, font type, and brand colors.
IS THE LOGO SIMPLE ENOUGH TO WORK IN ALL SIZES?
The complexity of a logo can negatively impact a business, as its use may be limited in where the brand can be displayed. More intricate designs take longer for someone to understand, and your goal should be for someone to receive the message in a couple of seconds. Consider the variety of mediums where the logo will be used such as the website, booklets, social media, and business cards.
IS THE BRAND MEMORABLE AND CONSISTENT?
In order to stand out among competitors, a brand should be distinctive and easy to remember. The design should not be similar to other brands and has an element that differentiates the business from the competition. A brand should also remain consistent across all platforms and mediums – this helps build brand awareness and integrity.
CLIENT & INDUSTRY RESEARCH
At Cassel, we make sure to set up a Creative Meeting with the client any time we are creating a brand from scratch or updating a current brand. After gaining insight from the client, the designer can research the specific industry and competition.
2. GAIN INSPIRATION AND DEVELOP IDEAS
If you find yourself stuck during the creative process, look at other designs for inspiration. Looking at brands from the same industry, checking out color palettes, and testing out different designs can set you up for success. It's important to find examples of designs you like as well as ones you do not.
3. DRAFT OUT INITIAL DESIGNS
Designers take a variety of approaches when it comes to the initial draft of logo designs. Some may sketch out drafts with a pencil and later digitize them into their design software, while others immediately start designing in their design software. It all comes down to how the designer works best. Mood boards are especially helpful to compile inspiration, colors, and fonts that could potentially be used for a project.
4. FINALIZE OFFICIAL DESIGN DELIVER FINAL FILES TO CLIENT
Once the design is approved, the final files are sent to the client. The client is provided with a Style Guide showing fonts, colors, and different variations of their logo.
Designing a brand from scratch or refreshing a brand can feel less daunting when the proper process is in place. If you are looking for a logo creation or a brand refresh, connect with our team here.